What Makes You Come Alive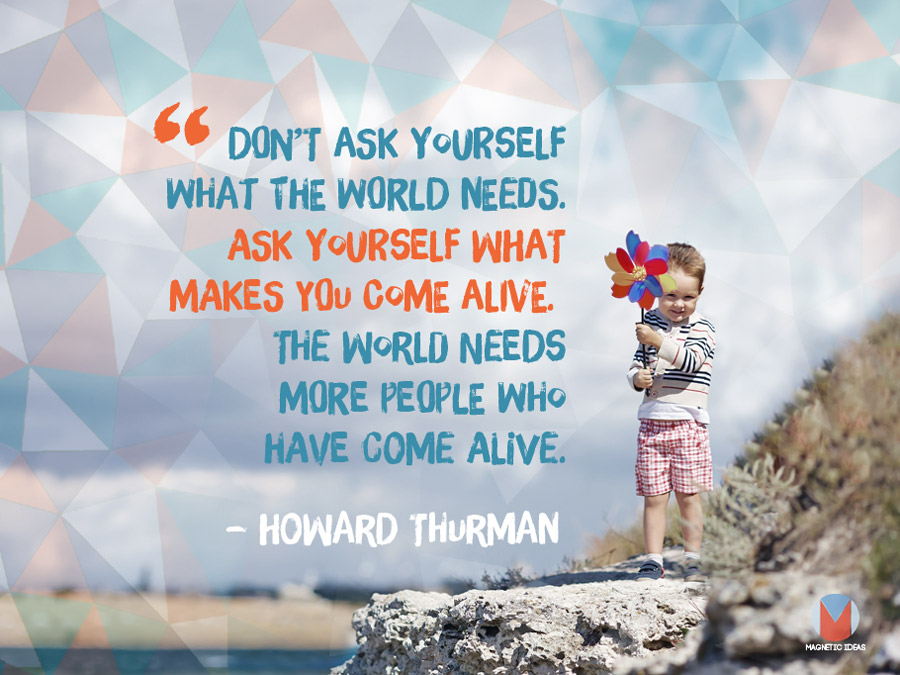 I recently read a article called Navigating Stuckness. As someone who is no stranger to stuckness, I was immediately drawn to this piece. Jonathan Harris recounts various phases in his life, and looks at his life as a whole trying to deduce a pattern, and ask the really hard question "what's next". As those who have been stuck before can tell you, answers often come from unexpected places. In this case Jonathan Harris found the following words, scrawled onto a bathroom wall, gave him a piece of clarity:.
"Don't ask yourself what the world needs. Ask yourself what makes you come alive. The world needs more people who have come alive."
I looked the quote up a saw that it was from American Author Howard Thurman.
I was immediately inspired by this quote, and decided to take a few minutes and capture it in an image. Thurman's quote is a great reminder that we will not do great things if we try to achieve what the world demands of us. Our own greatness will be realized when we give time and energy to our own talents and passions. This is our excuse to be selfish, to focus inward. Not for our own sake, but for the sake of making the world better.
Our greatness is inside of us. Tap into yours; the world is waiting.